Auli – Uttarakhand
Several people might not have even heard this name before but covered under a blanket of glittering snow almost year-round, Auli is one of the most sought-after ski destinations in the Asia. Auli offers breath-taking views of the mighty Himalayas. Witness the stunning vision of Nanda Devi Peak, Mana Peak and Kamet Peak as the first rays of the sun hit their snow-covered slopes. Get your adrenalin pumping on the steep slopes around Auli, as you ski over the virgin snow. The world's highest manmade lake is also located in Auli. 
Gulmarg – J&K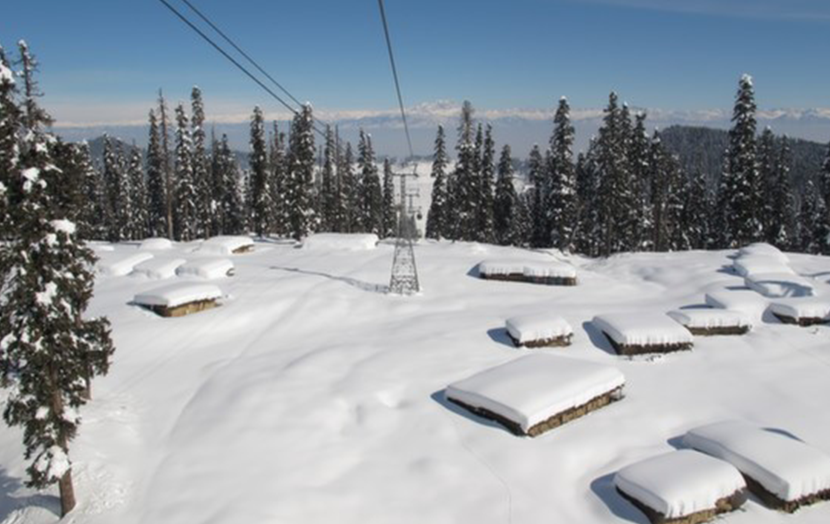 The name itself means meadow of flowers. Located at 52 Km from Srinagar, a key tourist attraction and also a main destination for skiers riding down from Gulmarg during the winter months. The skis gears and equipment are easily available on rent. Don't worry if you are new to Ski, just hire a instructor to get the basics. Slopes here between 8,700 and 10,500 feet. 
Sonmarg – J&K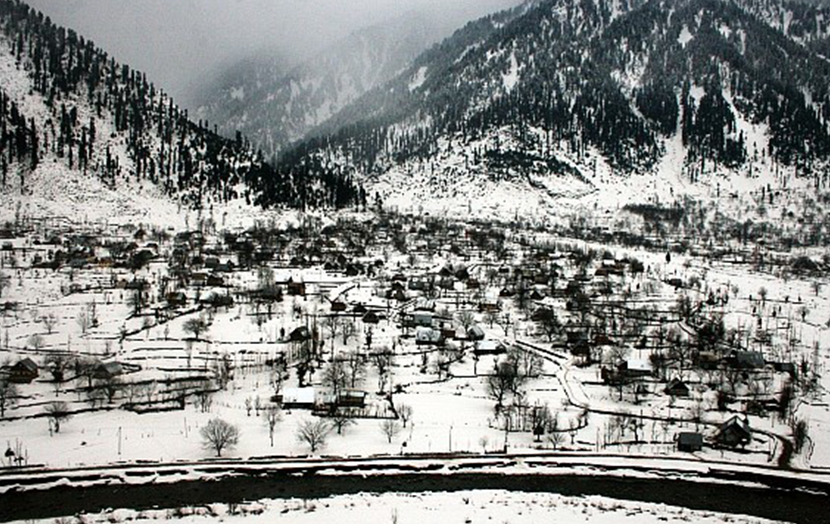 Tourists flock to this small hill destination in heavy numbers to see the enchanting natural beauty and snow clad peaks.  Its high altitude keeps the snow from melting for long, and that is why snow can be enjoyed till early April. Located at 80kms from Srinagar, Sonmarg is also called gateway to Ladakh. 
Manali & Rohtang – HP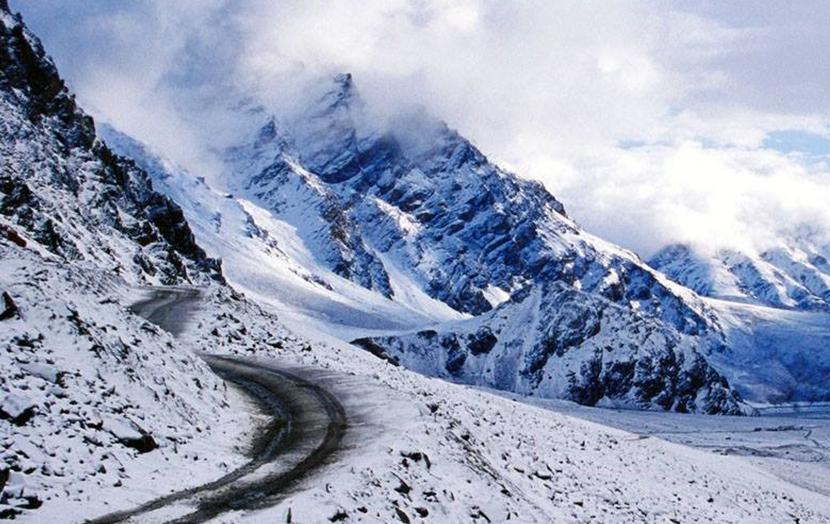 Commonly known as Kullu-Manali, this is one of the most famous hill destination of North India. A visit to Manali is not completed without visiting Rohtang Pass. While Manali gives you a feeling of a lively city with all famous hotels, shops, eating joints etc, Rohtang is a pass between two mountains at a height of 3500 meters which is usually covered in heavy snow during winters. 
Kufri – HP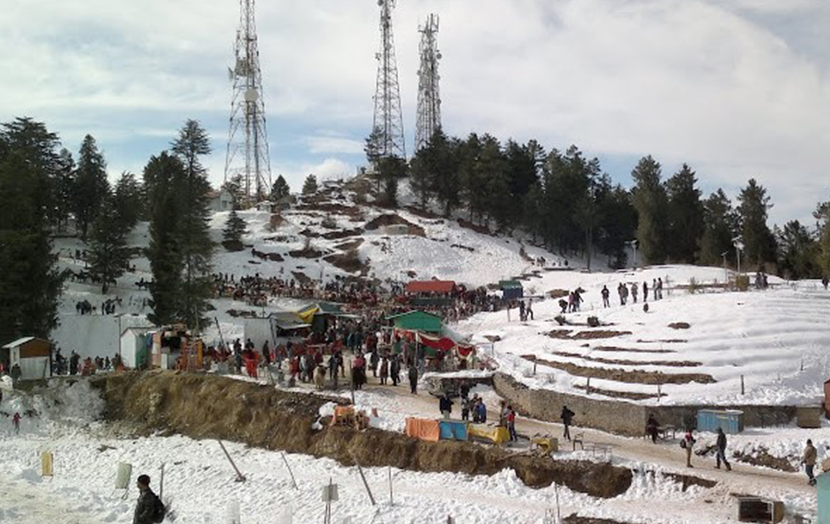 Kufri is a small hill station in Shimla district. The scenic environs and snow-capped landscapes attract tourists from all parts of the country and abroad. During winters, hills in Kufri serve as popular spots for skiing. The highest peak in Kufri – Mahasu Peak is covered with thick forests and is another tourist hot spot. The hill station also has a Himalayan Nature Park, which serves as home to several common and rare animal species.
Munsiyari – Uttarakhand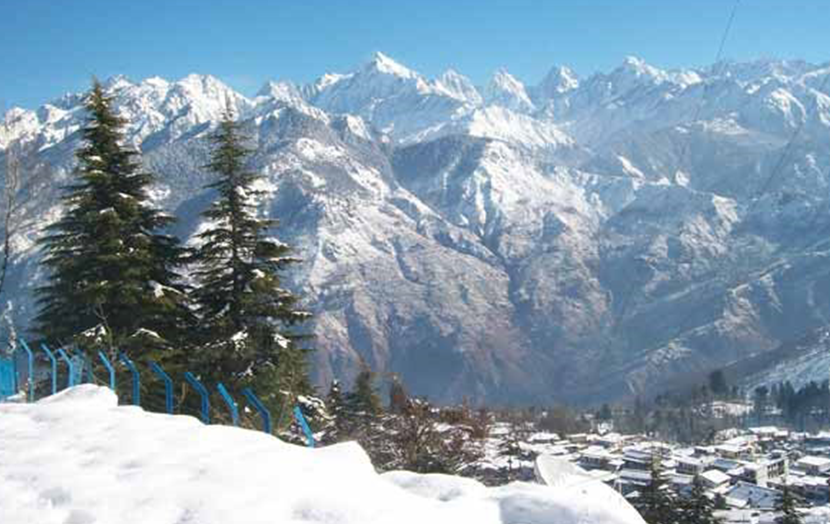 Munsyari the easternmost hill district of Uttarakhand, bordering Tibet, which is known as the Little Kashmir. The region is a paradise for the nature lovers and adventurous souls. A fast developing centre for skiing and other winter sports, Munsyari is a fairly big & developed Himalayan township at an altitude of 2,298 m. 
Dhanaulti – Uttarakhand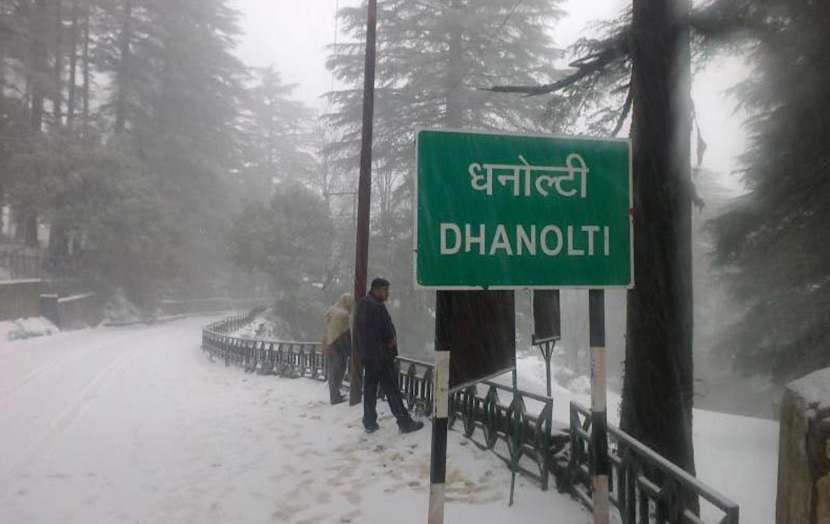 An idyllic and misty mountain retreat in Garhwal Hills of Uttarakhand, cloaked in a serene vibe, Dhanaulti is an un-spoilt and unexplored hill station located near Mussoorie. Nestled beautifully on a ridge at an altitude of 2286 m above sea level, Dhanaulti lies at just a couple of hours' drive from Dehradun – idyllic hill station.
Yumthang – Sikkim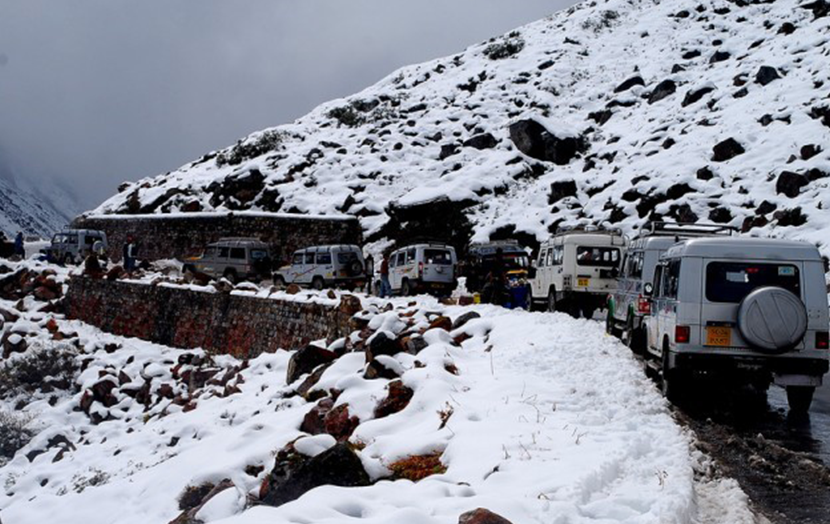 Located at a distance of ~150 Km from Gangtok, is an excellent place for snow experience. Situated at a height of 11800 feet it is a paradise for snow lovers. Another popular places is hot spring located on the right side of Yumthang river. While driving towards the valley, one can see cascading waterfalls and streams. The approach to Yumthang is from Lachung valley, however, most of the areas here are prone to blockages and being shut down due to heavy snow.
Nathula & Tsomgo – Sikkim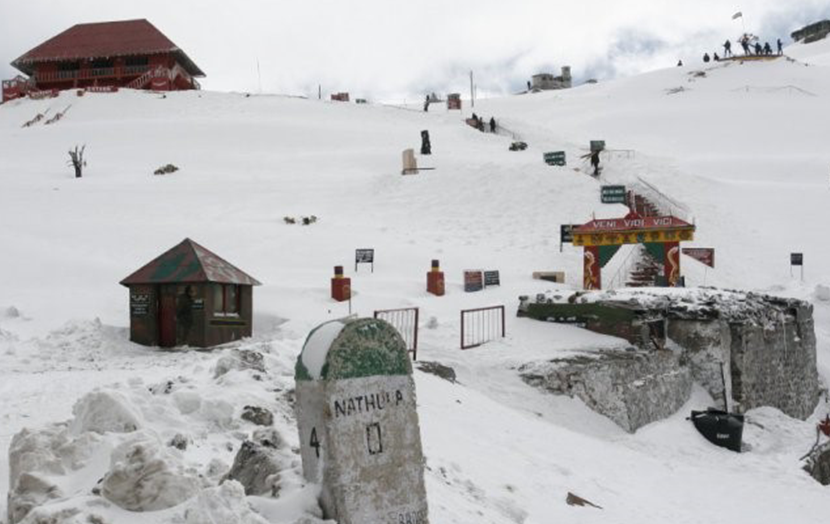 Nathu La and Tsomgo Lake are the main attractions near Gangtok in Sikkim. Located around 56 kms from Gangtok at an altitude of 14450 ft, the road passes through the Tsomgo (also called Chango) lake. awesome. Tourists are allowed to go close to the international border from where you can see Chinese soldiers on the other side of the barbed wire.
Nathula Nathula is open for Indian nationals on Wednesday, Thursday, Friday, Saturday and Sundays. The visitors have to get the permit to visit the place
Ladakh – J&K
List of snow destinations in India is incomplete without Ladakh which is one of the best places in to witness snow. Between October and March, Ladakh is usually covered with thick blanket of snow. One can visit the famous Pangong lake which freezes in winter, and Kargil War Memorial, drive on Khardung-la (second at highest motor-able road in world at height of 18300 feet). There are ample opportunities for trekking.
Hemkund Sahib & Valley of Flowers – Uttarakhand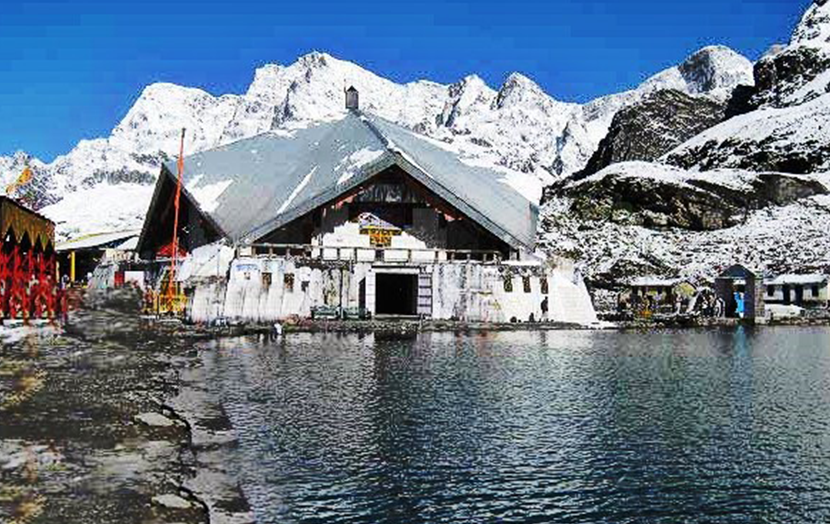 In addition to being an important pilgrimage destination for Hindus and Sikhs, Hemkund is the breath taking Lokpal lake located at an altitude of 4329 m from the sea level. The picturesque natural settings make this hill region an amazing place for rejuvenating vacations. Hemkunt Sahib is nestled amidst seven snow capped peaks and marvelous snowy glaciers. The nature is reflected here with all its mighty appearance in the crystal clear alluring water. Hemkund lake is fed by the glaciers from majestic peaks known as Hathi Parvat and Saptrishi peaks. 
Narkanda – HP
Narkanda is located at about 8000 ft. It is at two hours drive and higher in altitude than Shimla. It is a beautiful snowy destination with slopes of snow, dense forests. In Winters, Narkanda attracts large number of tourists. In addition to skiing, Narkanda offers a trekking route to the Hatu peak which is nearly 2000ft higher. It also offers Tannu-Jubbar Lake and Jallori Pass.
Tawang – Arunachal Pradesh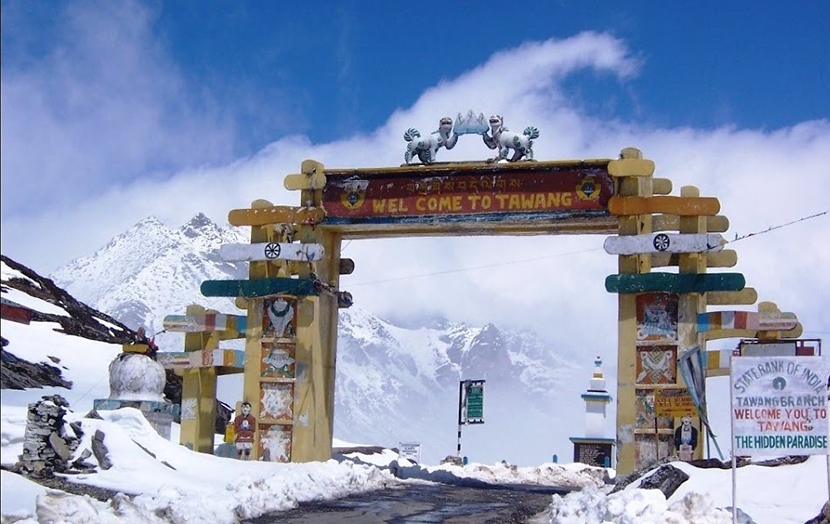 Tawang is located at an altitude of 3500 metres and distance of 183 Kms from Bomdila. The natural beauty and solitude of Gudpi and Chong-Chugmi ranges, Tawang chu River and Tawang valley are very mesmerizing. As the birthplace of the sixth Dalai Lama, it is a holy site for Tibetan Buddhists. Tawang can be best visited in winters when it is covered by snow. Visiting Tawang is incomplete without going to Sela Pass (at height of 13, 700 feet). Visitors need an ILP (Inner Line Permit) which shall issue for a period of 15 days. Road journey from Guwahati to Tawang takes about 18 hours. 
Chopta & Tungnath – Uttarakhand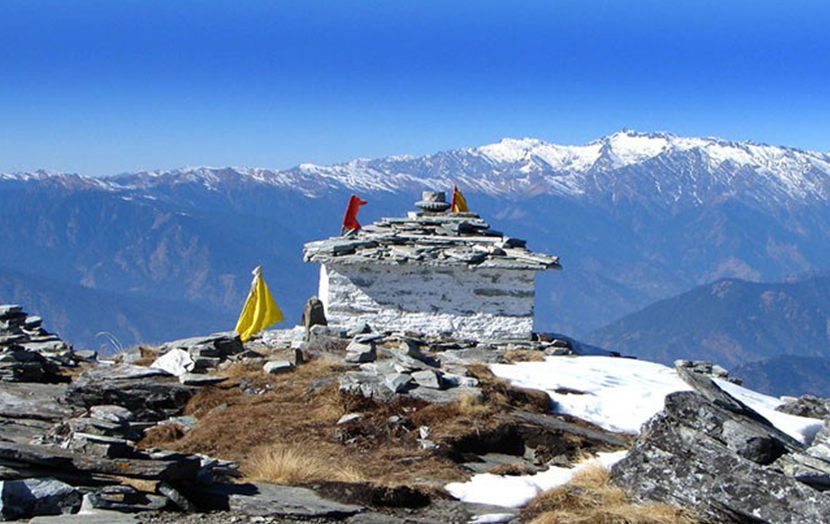 The hill station of Chopta offers beautiful views of the snow-clad Himalayas, lush expanses of green meadows and dense forest covers. This region is very popular among tourists, mainly because of the number of options it provides for exploring. Whether you are looking for a break from city life, or want to go on an adrenaline-filled adventure, Chopta is the ideal destination to visit with family as well as friends. During your trip to Chopta valley, you can take a trek to the nearby region of Deori Tal and can also take a trek to the temple in Tungnath.
Lava – WB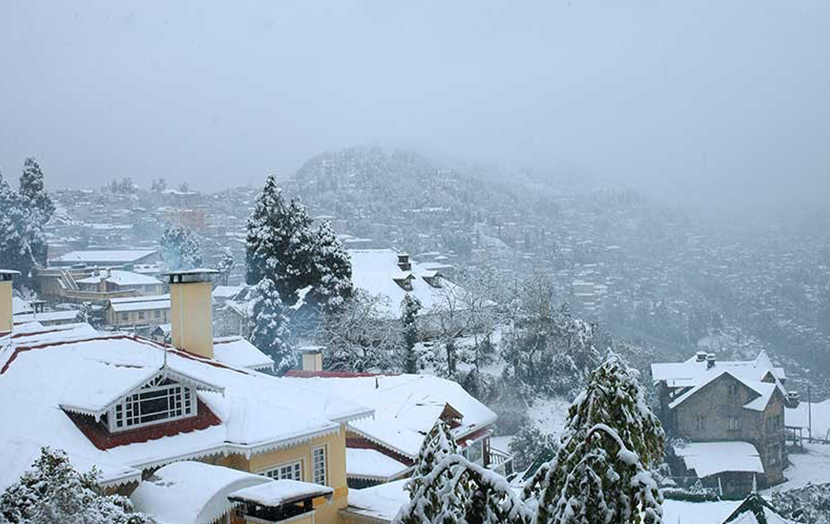 Although a relatively lesser-known destination, Lava is known for experiencing snowfall in West Bengal that is situated at an altitude of 2350 meters. A Landscape that can never be captured by words with splendour of nature. Against a clear blue sky are held the breath-taking views of the Himalayan Range-deep valleys,wooded ridges,snow peaks & passes. During winters, the alpine vegetation turns to a fairyland that matches to any snow lover's fantasy. An enthralling view of Mt. Kanchenjunga can also be attained from Lava
Triund – HP
Triund is the crown jewel of Dharamshala, situated in the laps of dhauladhar mountains, it has the perfect view of the dhauladhar mountains on one side and kangra valley on the other. Triund is a very popular trekking spot. Triund attracts a lot of tourist every year from India and all over the world .