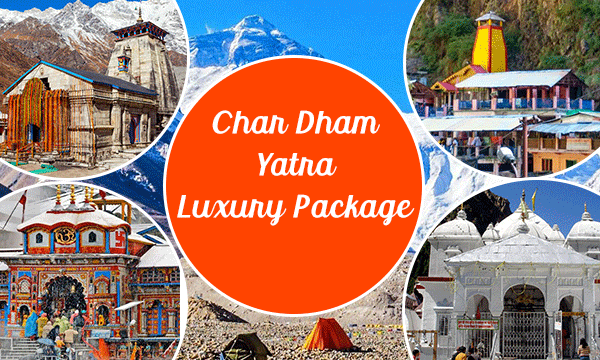 Char Dham Yatra Premium Package (Yamunotri, Gangotri, Kedarnath, Badrinath)
Via: Barkot, Harsil, Ghanasi, Guptkashi, Rudraprayag, Mana , Joshimath
Transport : Swift Dzire or Similar
Price : Rs. 61750/Adult
Starting : Haridwar
Reporting Place : Haridwar
Day - 1: Haridwar to Barkot (About 6-7 hours drive). Stay at Barkot - Resort Camp Nirvana - (www.campnirvana.com) OR Similar (Dinner & Breakfast Included)
Day - 2: Barkot - Yamunotri – Barkot (about 1.5 hours drive, followed by 3 hours trek) one way, Darshan at Yamunotri and come back to Barkot. Stay at Barkot in the same hotel - Hotel "Camp Nirvana - (www.campnirvana.com) OR Similar (Dinner & Breakfast Included)
Day - 3: Barkot - Harsil (About 5 hrs drive) - Visit Vishwanath Temple at Uttarkashi, Stay at Harsil. Harsil is a beautiful, picturesque & peaceful place, with small rivers, good hotels, and is just one hour drive from Gangotri. (Dinner & Breakfast Included)
Day - 4: Harsil - Gangotri - Ghansali - Start early in the morning drive to Gangotri, Darshan at Gangotri, leave for Kedarnath. Stay at Ghansali (about 6 hour drive from Gangotri). Ghansali is also a beautiful place to stay, tourists prefer to stay at this place because of its location and surroundings.
Stay at Manjari Resort (http://manjariresort.com/) OR similar (Dinner & Breakfast Included)
Day - 5: Ghansali - Guptkashi – Start early morning, drive towards Guptkashi. Stay at Kailash Residency (http://thekailashresidency.com/) (Dinner & Breakfast Included) – The best hotel in Kedar valley.
Day - 6: Guptkashi to Kedarnath – ~ 1 hour drive to Gaurikund, followed by 17 Km Trek. (Pony & Palakis are available as option). Night halt at Kedarnath (GMVN Dormitory)
Day - 7 : Kedarnath-Rudraprayag
- Attend early morning pooja, (starts at 4:30 AM), Trek down from Kedarnath to Gaurikund.
- Drive from Rudraprayag– (About 3 hours drive), Night stay at Rudraprayag - Hotel Monal Resort - https://www.monalresorts.com (OR Similar) 1 Room. Dinner & Breakfast Included
Day - 8 : Rudraprayag - Badrinath ~ 5-6 Hour drive
Start early morning, Reach Badrinath in the afternoon Darshan & Pooja at Badrinath. Visit Mana Village
Stay at Badrinath – Hotel Snowcrest http://www.hotelsnowcrestbadrinath.com/ or Similar 1 Room. Dinner & Breakfast Included
Day - 9 : Badrinath - Mana - Joshimath
Early morning pooja / Darshan at Badrinath,
-Visit to Mana Village (famous for Mahabharat times, as it Pandavas went to heaven through this. Interesting points to see - Bhim Bridge and Vyas Cave). Also last village on Indian side before China border. It is very peaceful place just 3 Km from Badrinath.
- Night Stay at Joshimath - Hotel Tattva https://www.thetattva.in or Similar. 1 Room. Dinner & Breakfast Included
Day - 10 – Joshimath to Haridwar
Trip Concludes