Uttarakhand, a state as a complete Destination for a tourist, it has all the variety of tourism, may you need Fun, Adventure, Wildlife, Bird Watching, Trekking, Mediation, Peace and Leisure. Uttarakhand is one of the most beautiful states of North India covering the slopes of southern Himalayan range. The state is guarded by Nepal in east, Himachal Pradesh in West, Tibet in North & Uttar Pradesh in South. The state has more than 60% dense forests having the home for tigers, leopards and many other endangered animal, plant species, rare Himalayan birds that can be spotted in the region of Pangoot & Binsar.
The origin of the two holy rivers Ganga & Yamuna lies here.
India's best trekking paths like Valley of Flowers, Roopkund, and Chopta-Chandrashila are there for the adventure lovers. The State known as Dev Bhoomi – The Land of Gods and is the home for Kedarnath, Badrinath, Gangotri, Yamnotri & the Hemkund Saheb. Largest Skiing Resort of Asia – Auli banks in Uttarakhand, white water rafting in today time is best hunt out place at Shivpuri. Thousands of pilgrims & Tourist visit the state every year.
The Major destinations in Uttarakhand that every nature lover would love to visit are:
1. Nainital
One of the most Favourite hill stations for the travel loving people in India, A perfect treat to Eyes. majestic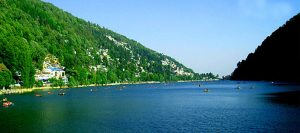 mountains, Scenic hills, lakes and hills covered with lush green Carpet. Nainital a gift of natural splendour to Uttarakhand. Nainital commonly known as lake district is populated around the Lake Naini. Boating and angling in the lake are the things to do. You can always enjoy to have Pahari cuisine or authentic Tibetan food. The best time to visit Nainital is between March and May.
2. Auli
A traveller's paradise, Auli of Chamoli district is among the largest skiing resorts in Asia and a lesser known hill stations in Uttarakhand. Snow-covered mountains, forests of deodar and oak, and apple orchards are the key to the beauty of the hill station. Auli also give majestic views of Nanga Parbat, Dungagiri, Mount Nanda Devi, Beethartoli, Nikanth Hathi Parbat and Ghori Parbat.Trekking is most popular activity in summer and it provides a wonderful opportunity to explore the Garhwal Himalayas.

The Auli is 20 km from Joshimath and the trek is beautiful trek of the State Uttarakhand. The pilgrimage spots near Auli are Sankaracharya Tapastali at Joshimath, Nandaprayag and Rudraprayag.
The best time to visit Auli is between May to November.
3. Ranikhet
Ranikhet of Almora district a popular summer destination in Uttarakhand. This hill station is known for its trekking trails, ancient temples and mountain peaks. It is also very popular with adventure junkies.
Trekking, mountain biking, rock climbing, white water rafting and rappelling are popular activities. Many honeymooning couples too visit the place for its serene beauty. Ranikhet has one of the largest Golf courses in Hills in Asia.
The best time to visit Ranikhet is between March and May.
4. Pithoragarh
A Scenic Hill station with paradise for adventure sports like trekking, rock climbing, paragliding, canoeing, river rafting and fishing are some of the activities to do this summer.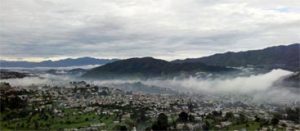 The Town is a valley surrounded between four hills and also has a host of temples and forts. Dhwaj Temple, Kapileshwar Mahadev, Pithoragarh Fort, Chandak, and Thal Keda are the popular destination in Almora.
The best time to visit Pithoragarh is between March and June.
5. Munsiyari
Munsiyari on the banks of River GoriGanga that originates from Tibet,
is in the district Pithoragarh. Musiyari is the base for high altitude treks in Himalayas Milam Glaciers and Ralam. Rafting in the Goriganga River is well popular activity in Munsiyari. The hill station is also known for its wildlife.
The best time to visit Munsiyari is between March and June.